Approximately 20 degrees cooler than Phoenix in the summer, the mile-high city of Prescott is surrounded by mountains, giant boulders, and a national forest. Of the many things to do in Prescott, Arizona, two of the most popular attractions are the Courthouse Plaza and Whiskey Row, so named after the saloons that once populated Arizona's first territorial capital.You can still pony up to plenty of bars in this historic city, but on your next trip, mosey on out those swinging saloon doors and try lake hopping instead. Just a few miles from downtown Prescott, more adventurous travelers will find fresh mountain air at four of the city's surrounding lakes. Here are a few cool water highlights.
Goldwater Lake
At 25 acres, Goldwater is the smallest of Prescott's four lakes. Named after Morris Goldwater, a former city mayor and uncle to the late Senator Barry Goldwater, it is located less than 5 miles south of Prescott. Access Senator Highway via Mount Vernon Street, south of Gurley, to get there.
Within the boundaries of the Prescott National Forest, "watch for wildlife" signs provide warning that mountain lions are a possibility. Fourteen bat species live here as well.
Beyond the picnic ramadas and playground area (with horseshoe pits for adults), you'll find two dirt trails around each end of the lake that cut through ponderosa pine and cottonwood trees. The shorter of the two trails leads to Lynx Lake, and the longer trail (0.6-mile Bannon Creek Trail) connects to the 54-mile Prescott Circle Trail, a dirt trail that circumnavigates Prescott and is accessible to hikers, bikers, and horseback riders.
Waterfowl, including ducks and a one-eyed goose, wade in the waters. Visitors can fish for trout, which is regularly stocked by the Arizona Game and Fish Department. Summertime lakegoers can rent canoes and kayaks, but swimming and non-electric motorized boating are not allowed.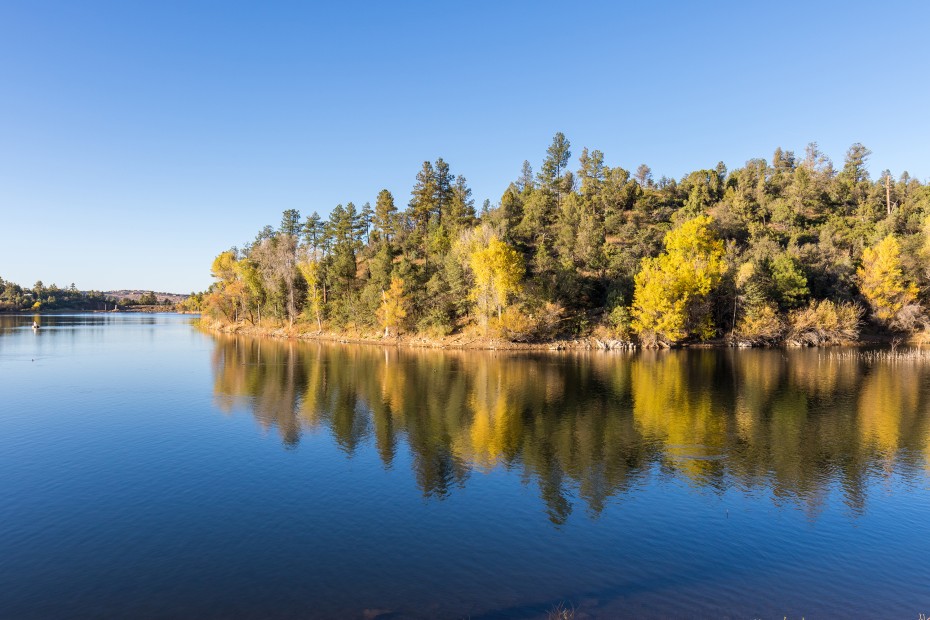 Lynx Lake
Follow Senator Highway south toward the Bradshaw Mountains to Walker Road, which loops back toward Prescott to reach the scenic Lynx Lake Recreation Area. The 55-acre lake attracts birders, hikers, and families for fishing and camping. Get gear, bait, and boat rentals at the Lynx Lake Store and Marina from late spring to early fall. Electric and gas powered boats under 10 horsepower are allowed. Try patio dining at the store's lakeview German/American restaurant. Hikers can enjoy Trail 311.
Twin Lakes: Watson and Willow
On the northeast edge of Prescott two lake parks hug the area's iconic rock formation playground, the Granite Dells. Watson Lake is east of state Route 89 North; Willow Lake is west. Prescott has owned both since 1998.
Watson—a photographer's dream—cuts a series of cool coves into the weathered granite boulders. Formed by dams, both lakes permit boats on the water, though motorized boats can float only on Watson, which enforces a "no wake" zone. Canoe and kayak rentals are available on both lakes during the summer, Wednesday through Sunday, via Prescott Outdoors. Visitors with the required permits/stamps can fish for largemouth bass, crappie, sunfish, bluegill, and large catfish.
Hiking trails also are abundant. The Peavine Trail, an abandoned railroad bed, is a favorite. Accessible to hikers, mountain bikers, and horseback riders, the trail follows a path along the southwest side of Watson Lake heading into the Granite Dells. Visitors can hike Peavine to other trails that cross over the boulders to Willow Lake Park or loop back around Watson. The 4-mile (one way) Peavine Trail is the best choice for those who want an easy lake-view stroll. Rock climbers and mountaineers, however, may choose to explore beyond.
Both lakes are designated Important Bird Areas by the Audubon Society and attract birders year-round and overnight campers April through October.
Willow Lake, accessed via the entrance to Heritage Park Zoological Sanctuary, is a popular spot for waterfowl migration. It's also home to a small prehistoric village. Three pit houses are open for tours on Saturday mornings, 10 a.m. to noon, April through June.