Late one day, as a sunset painted the ocean pink, I paused along a footpath in Point Lobos State Natural Reserve, south of Monterey, California. Standing on a bluff, I watched a sea lion loll in the shallows as a pair of otters backstroked through an eddy, clacking shellfish like castanets. They already knew what I'd been learning: This swath of the California coast isn't just a smorgasbord of beautiful sights and unexpected diversions. It's also a darned good place to eat.
I was at the tail end of a three-day road trip along Highway 1 from Moss Landing to Big Sur. The route is roughly 60 miles and can be driven in less than two hours, but I had set aside a long weekend to digest it all.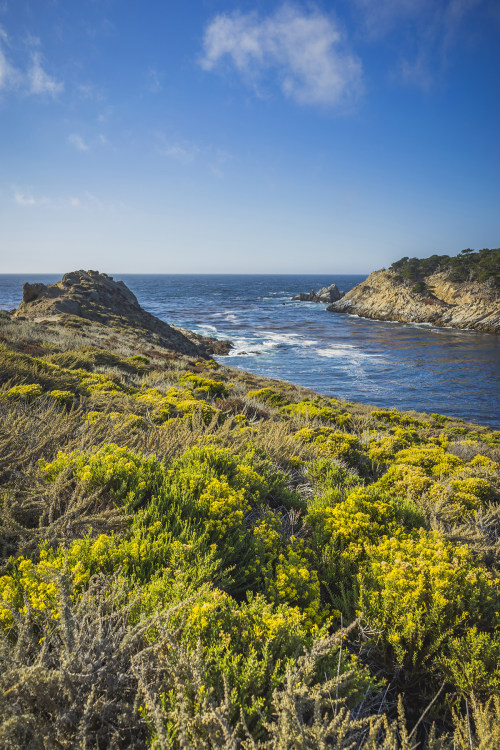 Moss Landing, California
The bayside village of Moss Landing seemed a fitting place to start. Its tiny downtown is a draw for antique seekers, while its inland edges attract hikers and kayakers to Elkhorn Slough, an estuary, marine research center, and ecological reserve. I joined a long lunch line at Phil's Fish Market & Eatery, an iconic seafood joint with a patio that overlooks the beach and a menu of freshly caught items broiled, boiled, and battered. One table over, a family of four launched a group assault on a large bowl of cioppino. I slurped from a cup of red chowder, its peppery broth brimming with potatoes and clams.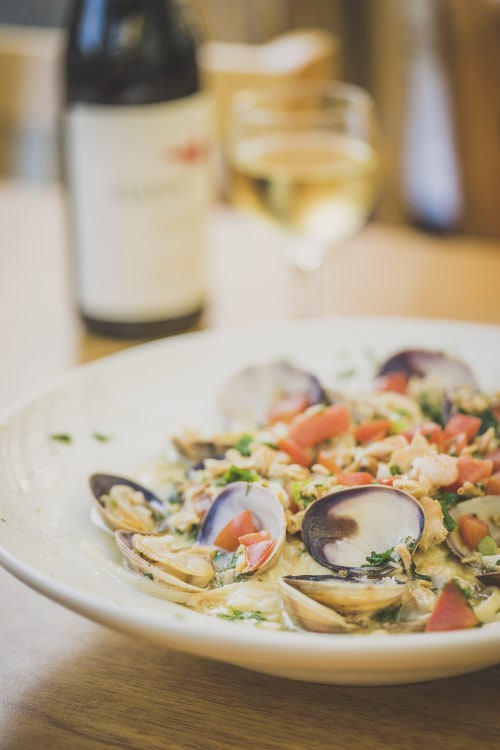 A few minutes' drive away, a menu in the window of Moss Landing Café announced its status as the home of "world famous" deep-fried artichokes. Certainly, they were hearts with soul: earthy, bite-size, and coated in crispy, herb-flecked batter.
"Tarragon?" I asked Mark Couts, who has owned the café for over 30 years, but he wasn't nibbling. "If I told you every little secret," he said, "it wouldn't be a secret anymore."
No mystery surrounds the main ingredient, which grows abundantly in nearby Castroville, a quiet farm town. As I pulled back onto the highway, the spiky plant spread out in neat green grids in the fields on either side. The day wasn't yet beachworthy, but the sky was clear and the morning's marine layer had begun to lift. Along the coast summer often feels only a breath away, even in winter.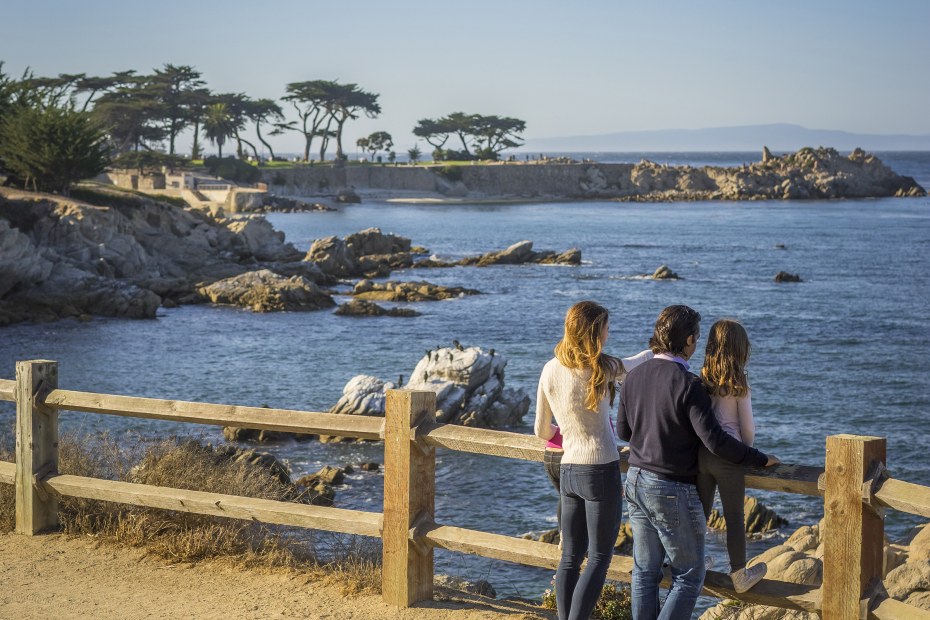 Monterey, California
Lunch hour had given way to happy hour by the time I pulled into Monterey, where a maritime past meets a mercantile present. At the waterfront, a crowd gathered around the bar for the specials at Sandbar & Grill, a locals' hangout in the literal sense: The building hangs off the side of Municipal Wharf No. 2. One taste of the sand dabs, panfried and splashed with lemon, and I understood why the place was packed.
"They get 'em right here in the bay," the barman, John Chezem, said of the fish, even if their low price suggested that they'd come from another place and time.
The next morning, I rose with the sun and found that Cannery Row had gotten up before me, a historic set piece stirring with the promise of saltwater taffy and souvenirs. Skirting the bustle, I walked along the Monterey Bay Coastal Recreation Trail. The paved pedestrian and bicycle path curves northwest along the water for about a mile to the next city. Pacific Grove may be overshadowed in fame by Monterey, but it remains unsurpassed in its sweet appeal, a salt-sprayed city of grand Victorian houses and a refuge for wintering monarch butterflies.
At the Monterey Bay Aquarium, a nonprofit showcase of nearly 200 marine exhibits, a regularly scheduled event was getting under way. Listed on the program as the Open Sea Feeding, it was more like a frenzy, a flashing spectacle of bluefin tuna, sharks, sardines, and other marine life in a ravenous display that called to mind an underwater fireworks show.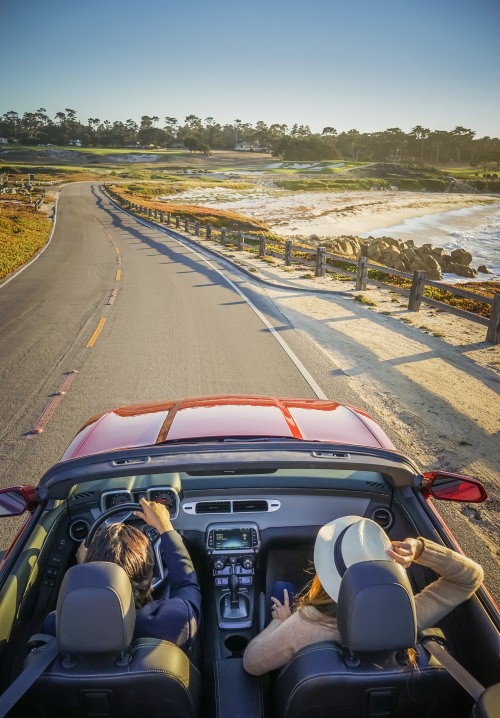 Pebble Beach and Carmel-by-the-Sea, California
Just southwest of Monterey and Pacific Grove lies an oasis of midcentury manses and Spanish-style villas: Pebble Beach, with its famous 17-Mile Drive, the name both factual and insufficient. On this serpentine private road, nearly every turnoff deserves a postcard. Yet nothing tops its panoramic view at Cypress Point Lookout or the pristine vistas from the beach opposite Bird Rock. There, a 1.5-mile dirt path led me along the sand and tide pools to Point Joe, which doomed early mariners who mistook its craggy elbows for the entrance to Monterey Bay.
Exiting 17-Mile Drive through the Carmel gate, I eased into Carmel-by-the-Sea, where shaded streets abundant in art galleries, day spas, whimsical buildings, and chic boutiques slope toward a white-sand beach. Carmel strives to keep the spirit of the village it once was: no streetlights, no addresses, no chain restaurants.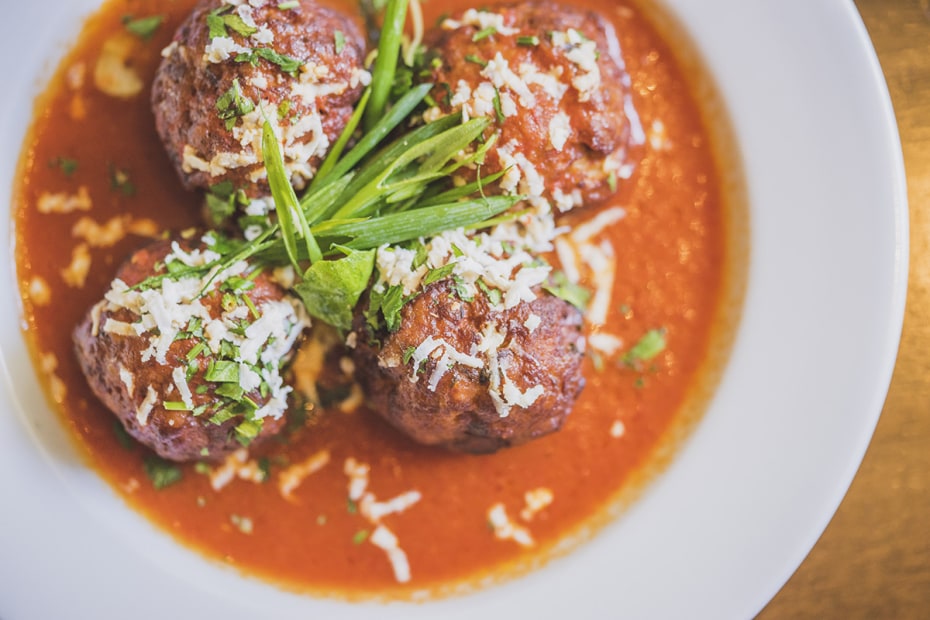 Having celebrated its centennial in 2016, the city has caught up with the culinary times. That's apparent at Carmel Bakery, which turns out treats such as éclairs, shortbread, and sweet pretzels—flaky figure eights of pastry dusted with cinnamon and sugar. A vibrant restaurant scene stars hot spots like La Balena, where a rustic Italian menu includes dishes such as wild mushroom risotto and ricotta gnocchi in hearty Bolognese sauce.
Carmel hosts the multi-day GourmetFest, late February or early March most years, to highlight the region's food and wine. Many of those local vintages pour year-round at more than a dozen tasting rooms clustered around downtown, in what amounts to a walkable urban wine trail. The oldest belongs to Jack Galante of Galante Vineyards, whose great-grandfather, J.F. Devendorf, was a founder of Carmel.
At Lucia the day I visited, the menu also included abalone, a scrumptious mollusk that once thrived in local waters. A reminder of its place in California history came on the last day of my trip, during a hike around Point Lobos, the oldest marine reserve in the United States. Though one-third of the park lies beneath the Pacific, its headlands are laced with walking trails. I followed one to Whalers Cabin, now a museum. Its walls are lined with fishing and whaling implements as well as photos from the late 1800s, when the waters teemed with abalone.
The ribbon of Highway 1 that spools south from Point Lobos toward Big Sur is not a route to rush. Safety commands a leisurely pace, and so does the coastline, a necklace of coves and cliffs ornamented by such jewels as Julia Pfeiffer Burns State Park, where I pulled off for one last scenic stop.
Enough daylight remained to illuminate my short walk down Waterfall Overlook Trail, which faces McWay Falls, an 80-foot cascade spilling to a small beach. A squadron of pelicans winged by. Breaking formation, one of the birds dive-bombed for dinner. My belly rumbled. It was almost time to eat again.